In 'The Silver Ones - Do's & don'ts for 50+ marketing' Filip Lemaitre wrote down his vision for 50+ marketing. He is convinced that this new generation of people in their fifties and sixties and even in their seventies are not yet ready for senior marketing. In his book you will be acquainted with this new silver market segment and how they want to be approached and served.
People in their fifties and sixties claim a special place in the todays society. They form a non-negligible group of consumers to which one in two of the adult consumers in Belgium and the Netherlands belongs. This new generation of people in their fifties, sixties and more and more also in their seventies are the first generation to grow up with pop culture and a TV. Half of them are still working today, the rest enjoying la vida señora.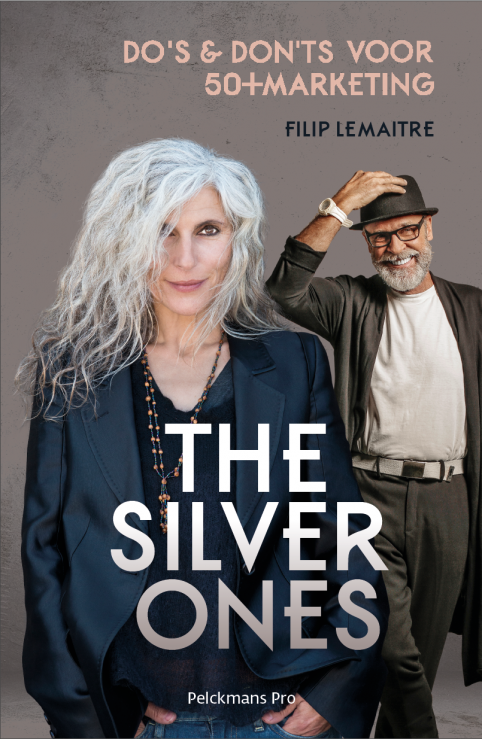 They feel like in their thirties with extra years of experience. Despite a back or knee that occasionally protests and a blood pressure on the high side, their happiness barometer is on nice weather.
The children left the house, the mortgage is paid and at this life stage at the end of the month some money left. It wasn't always this way. Living poor to die rich doesn't longer applies to this generation.
Although the social impact of ageing is undeniable, at the same time, the ageing society offers the economy a lot of opportunities.
This book tells the story of the new fifties and sixties, and by extension even seventies. The reader explores in this book a new lifestyle, consumer behavior and needs and expectations of people in this stage of life.
Indispensable for those who want to reach the baby boomer and the first members of the generation X with his marketing and communication concepts.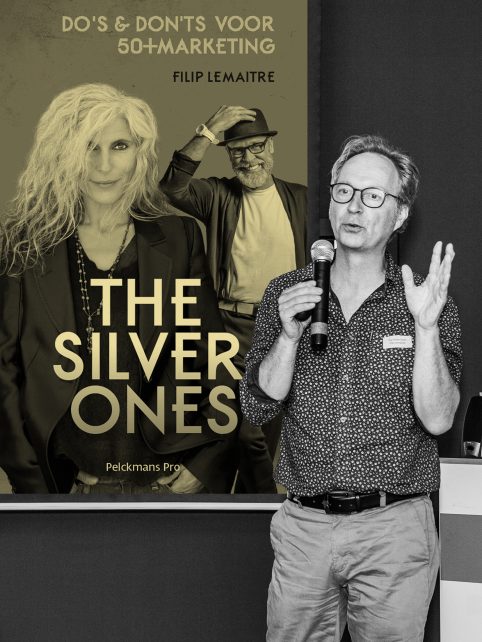 Filip Lemaitre, absolute baby boomer, started in 2017 with The Silver Ones, a strategic and creative marcom agency with a full focus on the silver consumer. At the end of 2018, The Silver Ones transformed in bureau50 because of a cooperation with the Dutch colleagues of bureauvijftig. He gives lectures, advises and inspires companies.

Following on the book 'The Silver Ones – do's & don'ts for 50+ marketing' (ed. Pelckmans Pro – 2018), Filip Lemaitre, armed with a camera and microphone, made a serie of vlogs of the inspiring conversations he he had with people from different industries interested in this new consumer. View the vlogs of The Silver Ones on Tour 2018 here.